Education
---
5317 Lovington Hwy
Hobbs, NM 88240
575-392-4510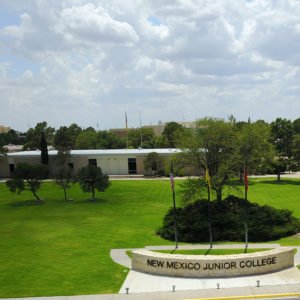 New Mexico Junior College enjoys the distinction of being the first junior college built in the state. Today, NMJC occupies 243 total acres, with approximately 500,000 square feet of building space. The campus has a student population of approximately 3,000 students and 265 full-time employees, as well as a facility count of 24 buildings, including the newly constructed student apartments, the Western Heritage Museum & Lea County Cowboy Hall of Fame, and the new Training & Outreach Center. In addition, the college offers nationally renowned NJCAA athletic programs in baseball, men's and women's basketball, golf, and men's and women's rodeo. Through its outstanding programs, staff, and services, New Mexico Junior College fills an important educational need for Lea County and the surrounding area by actively promoting success through learning.
Degree Programs
Associate of Arts
Associate of Science
Associate of Applied Science
Certificate in Business and Industry Trades
6610 Lovington Hwy
Hobbs, NM 88240
575-392-6561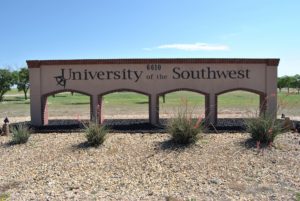 University of the Southwest is a Christ-centered educational community dedicated to developing men and women for a lifetime of servant leadership by emphasizing individual faith, responsibility, and initiative.
University of the Southwest strives for excellence in academic curriculum, campus life programming, and student activities in a supportive educational community where freedom of thought and expression is honored and the demonstration of faith in acts of service is encouraged. As a community of initiative, University of the Southwest challenges graduates to become enterprising members of our society contributing to the common good by advocating and participating in the productive commerce of free enterprise, the constitutional privilege of self-government, and the practical contributions of community service.
Degree Programs
Bachelor of Business Administration
Bachelor of Arts & Science
Bachelor of Science
Master's Degrees
New Mexico Junior College Training and Outreach
#1 Thunderbird Circle
Hobbs, NM 88240
575-392-4709
New Mexico Junior College's (NMJC) division of Careers & Technology and Training & Outreach provides workforce training programs throughout the county.
Workforce development is provided through technical degree programs, customized training, and continuing education. The NMJC Careers and Technology division offers opportunities for learning vocational skills in a variety of business and vocational-technical fields. Advisory committees help to ensure that skills taught in the classroom are relevant to the occupation and meet current entry level skill expectations of business and industry. Training equipment and laboratories are comparable or surpass current business and industry standards.
In addition to technical degree programs, New Mexico Junior College can customized training programs to fit your needs. In this circumstance, a training consultant will work with clients to pinpoint what type of training(s) an organization, company, or corporation needs. Training can be offered at the workplace or at the NMJC Training & Outreach Facility. Training sessions are customized to fit the client's budget, location, curriculum, and schedule. NMJC has developed customized training programs to provide instruction to the nuclear industry, oilfield companies, city governments, multi-national corporations, and locally owned small businesses. Lastly, workforce training is available through continuing education courses. Whether you are a supervisor, team leader, associate, specialist, or considering applying for an advanced position, NMJC has the courses and the affordability to help individuals successfully achieve their goals.
Public Schools
Eunice Municipal School District
Website
Hobbs Municipal School District
Website
Jal Municipal School District
Website
Lovington Municipal School District
Website
Tatum Municipal School District
Website